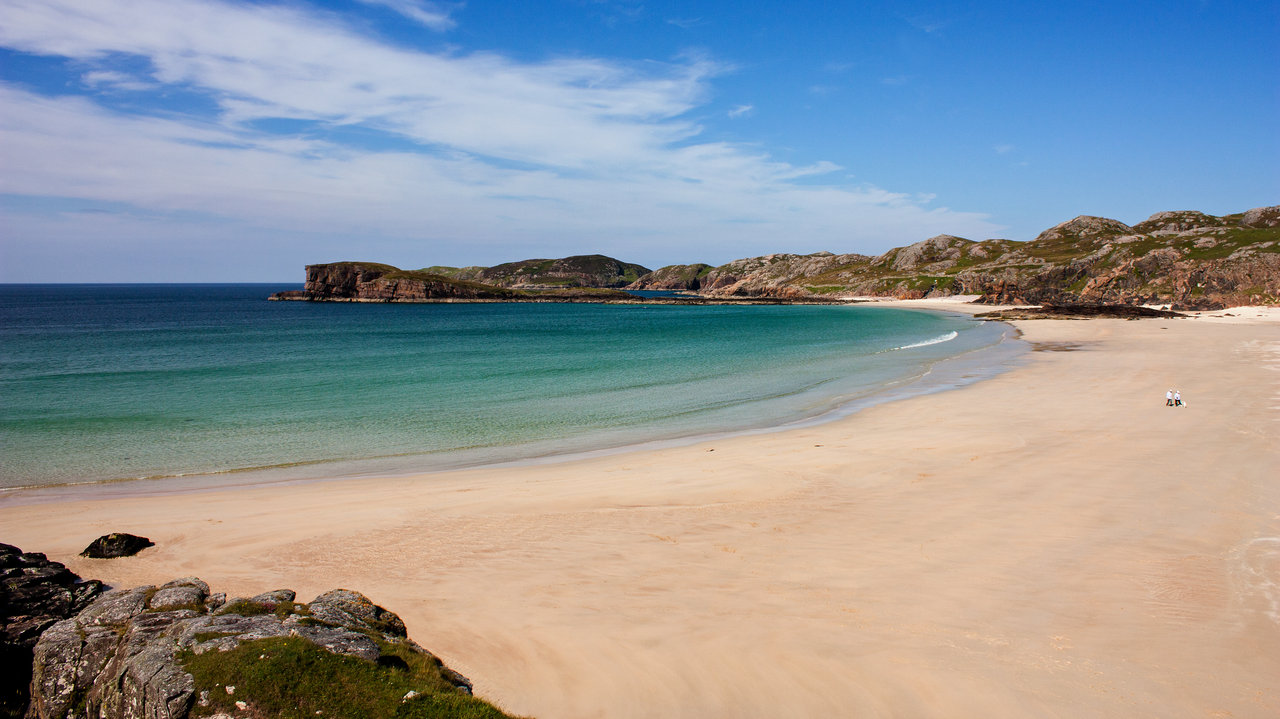 Self Catering Holiday Caravans At Oldshoremore Beach, Near Kinlochbervie
Self Catering Holiday Caravans
The beautiful and secluded Oldshoremore Beach (above) is near Kinlochbervie and makes a great base for fishing and walking holidays in North West Sutherland. The caravans are 5 mins walk from the beach.
We have 2 self catering holiday caravans on private sites, both with spectacular views of Oldshoremore Beach and out to sea. Each static caravan is fully equipped with its own fenced area.
Kinlochbervie & Oldshoremore
Kinlochbervie is a small fishing village in Sutherland, on the far north west coast of the Scottish Highlands. It is home to some of the most beautiful landscapes in the world, and a popular area for walking and fishing holidays.
Nearby Oldshoremore is a crofting village on the North West coast of Sutherland, 2 miles from the fishing port of Kinlochbervie.  It is a small crofting village, where there are still 4 active crofters who work with sheep and cattle.  There are around 20 houses in the village, although many are holiday / second homes.  The beach is busy during the summer season, and the area is popular with walkers who wish to make the journey to Sandwood Bay.
Our Caravan Sites
We have 2  self catering holiday caravans on private sites at Oldshoremore Beach, just 5 mins drive from Kinlochbervie village centre.
Holiday Caravan 1
Caravan 1 is  sited at the side of the single track road leading to the beach, and caravan 2 is sited on the croft below.  As you can see from the photographs, our Oldshoremore caravan site has beautiful views out to sea and around the Machair.  Unfortunately the price to pay for these views is the exposure to the wind, which can reach gale force (and stronger!) even in summer.  Please think carefully about this when booking – if you are unaccustomed to strong winds then you may not enjoy a stay in a caravan in the Highlands!
The caravan is at the top of our croft, and as we are part-time crofters with a flock of sheep to look after, we are sometimes around.  There are 2 holiday homes on the opposite side of the road from the caravan, and one holiday home on the same side.  While we try our best not to disturb our visitors, unfortunately we cannot guarantee that the holiday makers in the other houses will do so!
The caravan is now 14 years old but is in good condition.  It is 35 feet long, and 10 feet wide.  The site is fenced off, there is space for parking to the side or to the front, but you will need to be able to reverse either on or off the road.  Due to the loose chips covering the site, the caravan is not suitable for wheelchair users.  The interior is in good condition and always cleaned to a high standard.  It is fully equipped, but unfortunately there is not a washing / drying machine or a freezer.  The fire, cooker, hot water system, shower are all powered by bottled gas, the other appliances are electric.
Book Your Holiday
Our caravans are available April to October and are rented on a weekly basis, from 2pm Saturday to 10am Saturday.
Apr – Jun  £300
Jul – Aug  £350
Sep – Oct  £300
To book your holiday or ask a question please contact:
Anne Mackay
(01971) 521 335
0774 999 0698
anne.mackay1@btinternet.com
Book Your Holiday
Our caravans are available April to October and are rented on a weekly basis, from 2pm Saturday to 10am Saturday.
Apr – Jun  £300
Jul – Aug  £350
Sep – Oct  £300
To book your holiday please contact:
Anne Mackay
(01971) 521 335
0774 999 0698
anne.mackay1@btinternet.com